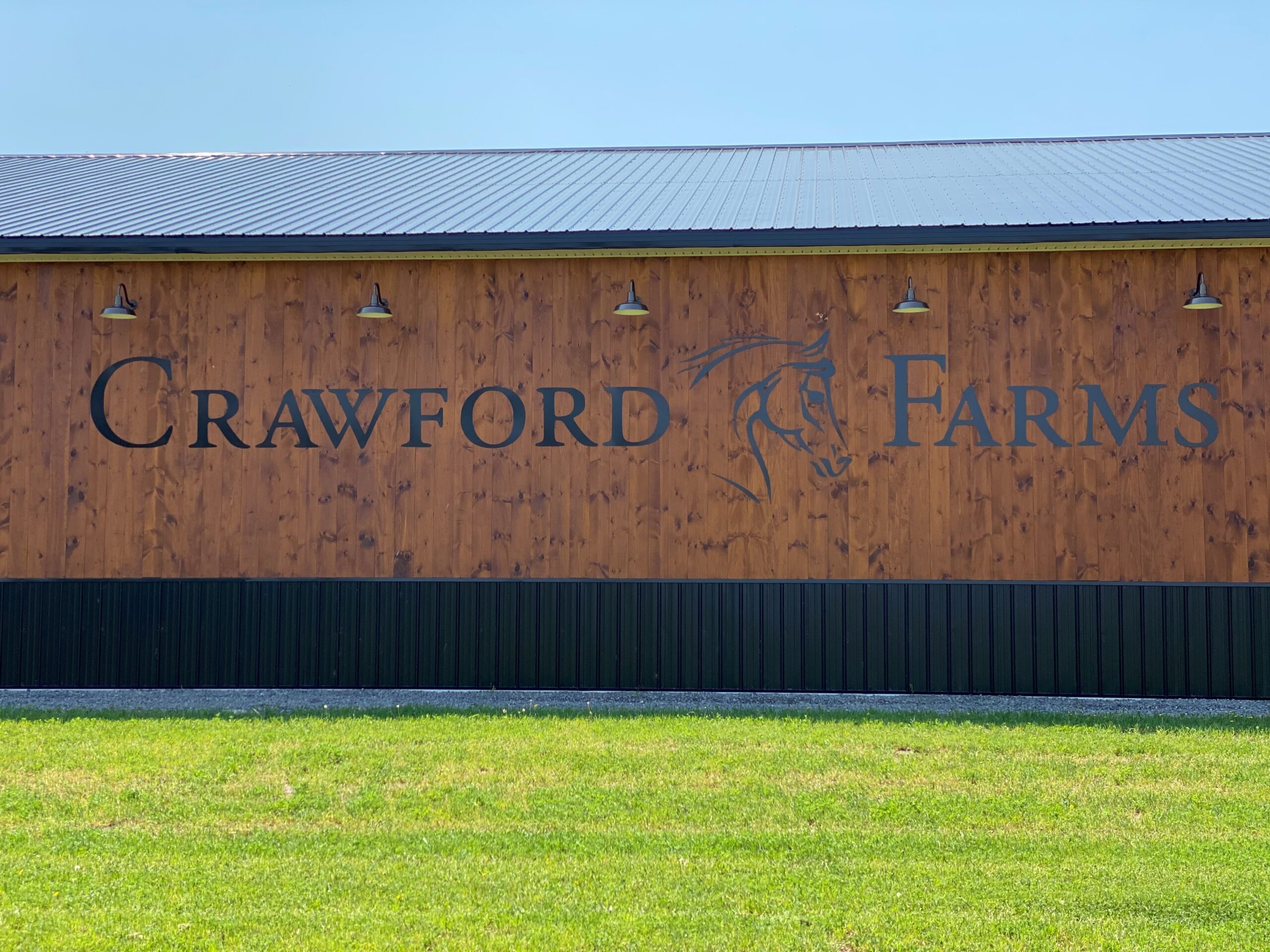 East Rutherford, NJ—Meadowlands Pace day (July 12) provided another perfect morning for Breakfast With The Babies with comfortable temperatures and little to no wind.
The 2-year-old trotting star of the morning was 1:57.2 winner Lock Down Lindy, a filly from the first crop of Lucky Chucky from Love Lockdown. She led through a comfortable 1:01.2 half before Scott Zeron gave her the green light, resulting in a 56 flat final half with a 27.2 closing quarter. Tony Alagna conditions the $40,000 Lexington buy for the partnership of Mystical Marker Farms, Crawford Farms, Joe Sbrocco and In The Gym Partners.
Alagna and Zeron came right back to win the very next race with Michelle Crawford's homebred Conway Hall-Classic Yankee colt Titanium. He left for position from his outside post then cruised through an open rail into a 28.3 final quarter to take the 2:01 record.
On the pacing side, Alagna also sent out the sharp-looking Somebeachsomewhere-Dream-a-while colt Dreams Beachboy for his second outing, this one an effortless 1:54.4 win with Zeron aboard. Dreams Beachboy was a $150,000 Harrisburg purchase by Myron Bell for Brittany Farms, Marvin Katz and Stillwater Partners.
Ake Svanstedt continued to expose his freshmen, sending out three more colt winners this morning starting in the opener with Curfew, a Muscle Hill-After Midnight $75,000 Lexington yearling making his debut. He moved to the front past the quarter and ended the 1:59.2 mile with a 29.2 final quarter. He is owned by the Top Ten Racing Stable.
Canappealformore was the next Svanstedt winner. This one is a Brittany-bred by Cantab Hall from Appeal To Reason, haltered at Harrisburg for $60,000 by LGJ Invest. Ake held him in a loose pocket then wore down the leader with a 29.4 end to a 2:00.2 mile.
A bit later, One Direction was a 1:59.2 front-end winner for Svanstedt and owner/breeder Ernst Gerbaulet of Germany. He's a Deweycheatumnhowe from Angelina Chip.
Tangerine Bi looked strong for Jimmy Takter, closing considerable ground into a 27.3 last quarter for a 2:00.1 win. She's a Yankee Glide that cost Takter, Katz, Fielding and Fielding $70,000 last fall in Lexington.
John Campbell directed a pair of winners. On the trot it was the Donato Hanover filly Love Her Madly he steered though a quick 27.4 end to a successful 2:00.1 mile for Ross Croghan. She belongs to Let It Ride Stables, RBH Ventures and Joseph Myers who spent $65,000 on her at Harrisburg.
Campbell later scored with the pacing filly Game Theory, a $75,000 Rock N Roll Heaven first cropper from Best Laid Plans for the Cancelliere brothers with a sharp 27.2 end to a 1:55.3 mile while holding off the good-looking Sportswriter filly Capela.
Owner-trainer Troyce Thomas drove his own Village Jolt filly Fie Fy Fo to a 1:56 flat win. She cost just $9,000 at Harrrisburg.
The pacing colts sprinted some fast halves in their trials. Asap Hanover was a winner in his very first try for Toscano and Tetrick with a 56.1 back half, 26.2 quarter on the end of a 1:56.4 mile. He's a $150,000 Lexington Somebeachsomewhere-Allamerican Coed colt owned by John Mehlenbacher of Ontario.
Two fast and expensive Somebeachsomewhere colts hooked up through a vicious 54.4 last half of a 1:57.1 mile with the $100,000 buy Southwind Torque holding off the $215,000 bonus baby Mohegan Blue Chip. Dave Miller handled the winner for Chris Ryder and owners Bob Mondillo and Craig Handerson.
Qualifiers closed out the day with the speedy, but erratic, Master Of Law making his debut for the Takter barn. He wowed the crowd of veteran onlookers with a wicked close from well back into a 55.3 on the board final half of a 1:52.3 mile to get by Spider Blue Chip in the last few strides. Master Of Law was well back at the 57 half; he must've trotted his last half in the 53 range for Takter.
Frank Antonacci of Lindy Farms declared post-race that, "Nobody has a faster horse than Master Of Law. He needed a change of scenery, a fresh approach so we took him to Jimmy. Look out Sebastian K, we're comin' for ya!"
Saturday's races begin at 6:30 p.m. and will be one of the best offerings of the season. Watch the Haughton FFA final and Meadowlands Pace on CBS Sports Network from 9:00 to 10:00 p.m.
http://xwebapp.ustrotting.com/absolutenm/templates/article.aspx?articleid=59851&zoneid=1