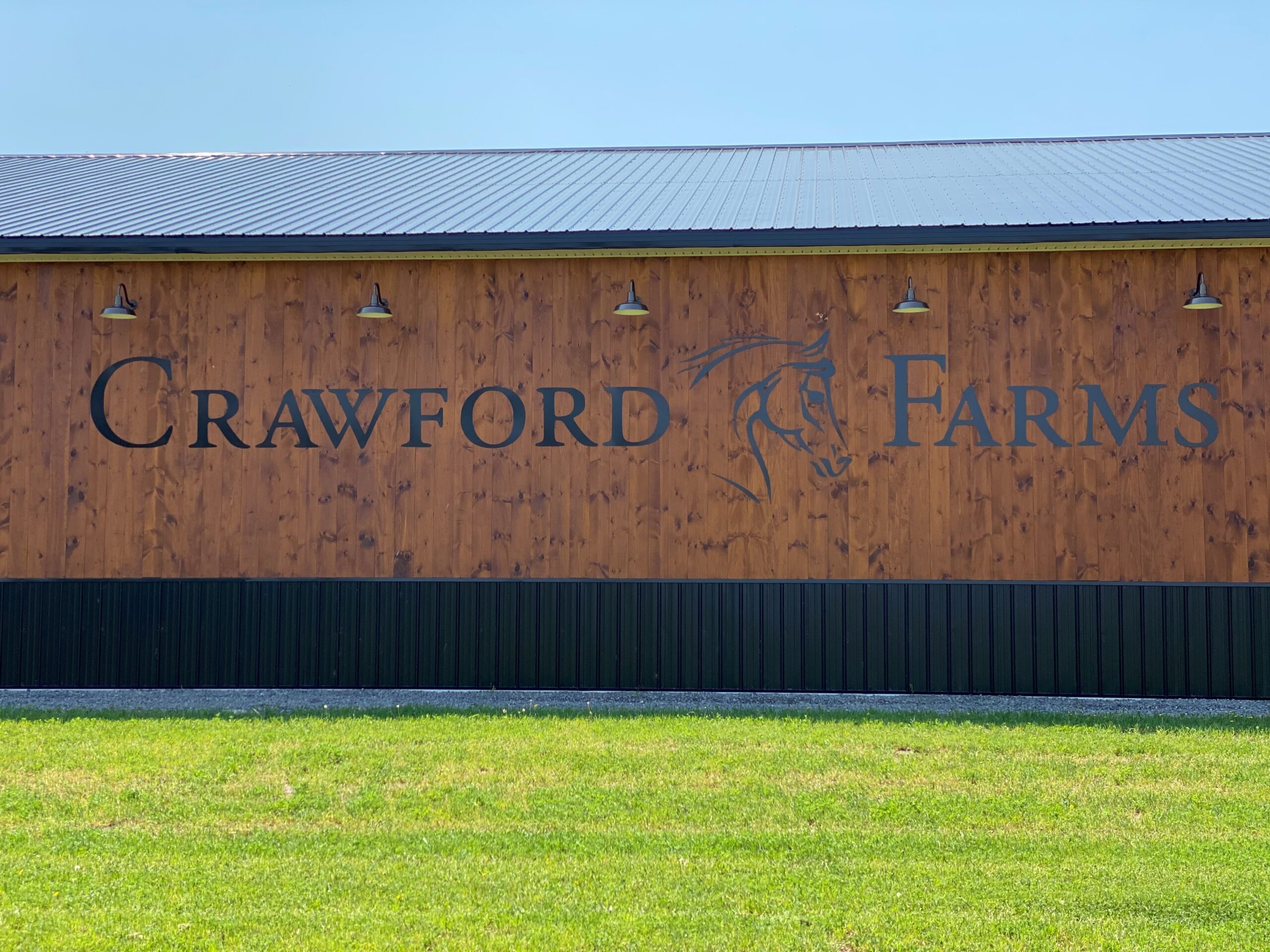 Batavia, NY — Barn Doll got off to a slow start but she finished first and fastest of four divisions of New York Sire Stakes for 2-year-old trotting fillies on Sunday (Aug. 17) at Batavia Downs.
After getting away a gapped fourth, Barn Doll (Conway Hall-Headintheclouds) and driver Jeff Gregory watched as Jim Morrill Jr.'s Pig Hunt cut out speedy fractions of :29 and :59.3, while pulling just before that second station.
After starting the outer flow, Barn Doll slowly advanced towards the leader as they hit the three-quarters in 1:30. Once being eased around the last turn, Gregory got the filly in gear and she simply out-motored the rest to win in an impressive 1:59.4. Summers Windsong (Ray Schnittker), who followed Pig Hunt the whole race, was second and My Lucky Word (Mark MacDonald) closed outside to be third. The winner paid $4.70.
This was the fifth win in seven starts for the Steve Pratt trained Barn Doll who has now earned $70,712 on the year for owners Steve and Nancy Pratt and the Purple Haze Stable. She is the current points leader in the NYSS standings for her gait and sex.
Nunkeri (Lucky Chucky-Laverne Lavec) won the second fastest division, going wire-to-wire in 2:01. After leaving hard to grab the lead, Mark MacDonald then grabbed leather to perfectly rate the game trotter through fractions of :30.1, 1:01.1 and 1:31.4 before flying home in a brisk :29.1 to register the win. Betcha (Dan Daley) was second and Northern Obsession (Ray Schnittker) was third. Nunkeri paid $3.50.
Nunkeri is owned by Millstream Inc. and the Nunkeri Stable and is trained by Jonas Czernyson. This was her second win in five starts in 2014 and brings her bank up to $49,825.
Kaliska (Credit Winner-Armbro Vivian) also won her division in 2:01 but had to do it amidst an overabundance of road trouble. At the start of the race, Duolectra (Mark MacDonald) made a break which allowed Kaliska to inherit a quick lead. That lead was subsequently challenged by Summer Scent (Dan Daley) to the quarter in :30.2.
Once she cleared, Kaliska and Ray Schnittker followed close behind while watching Concentration (Chris Lems), Frou Frou (Jim Morrill Jr.) and Spell That (Sam Schillaci) make breaks at various points of the mile. Once pulled, Kaliska out-dueled Summer Scent to the wire to win by almost two lengths. Kaliska returned $15.00 to win.
The victory was the second of the year for Kaliska and pushed her earnings to $44,957 for owners Tom Spatorico, the Pepin Stable, Fam Alber Horse Racing LLC and Ray Schnittker, who is also her trainer.
In the fourth split, Zanna Blu (RC Royalty-Zann's Fan) proved dominant in what became a very short field very fast. With an early scratch and Miss B'ville J (Jim Morrill Jr.) and Hot Start (Mark MacDonald) making breaks before the eighth pole, Zanna Blu found herself with a commanding lead and only three contenders behind her.
Driver Gates Brunet took her through fractions of :30.3, 1:01.2 and 1:31.1 with a five length lead, before shutting her down with a line-drive to a 1-3/4 length win in 2:01.1. She returned $6.90 to her backers.
This was the third win in six starts for Zanna Blu and her owners Albert Crawford, Michelle Crawford and James Crawford. The winner's share pushed the Gates Brunet trained filly's cash total to $47,176 for 2014.
There were also three divisions of the Excelsior series on the card. Meshugana Miss (Crazed-Darling Marissa), who was driven by Mark MacDonald, won the first $12,600 division in 2:00.4 for owner/trainer Janice Conner. Long Summer (Prayer I Am-Summer Ran), driven by Jeff Gregory, won the second $12,700 split in 2:04.2 for owner Roy Dobbins and trainer Andrew Byler. Barn Girl (Cash Hall-Turquoise Sweetie) was driven by Mark MacDonald and won the last $12,700 session in 2:02.4 for owners Steve and Nancy Pratt. Barn Girl is trained by Howard Okusko.
Driver Jim Morrill Jr. registered his 6,000th career driving victory in a non-betting Excelsior B race with Ron's Coren in 2:04.1. Along with the wins, Morrill has pocketed purses totaling $87,659,175 during his career and annually remains one of the highest UDR reinsmen in the sport.
Drivers Jeff Gregory and Mark MacDonald both scored driving triples on the card.
Racing resumes at Batavia Downs on Wednesday (Aug. 20) with post time at 6:35 p.m. The card features two divisions of the $110,000 New York Sires Stakes for 2-year-old trotting colts and geldings.
http://xwebapp.ustrotting.com/absolutenm/templates/article.aspx?articleid=60465&zoneid=63