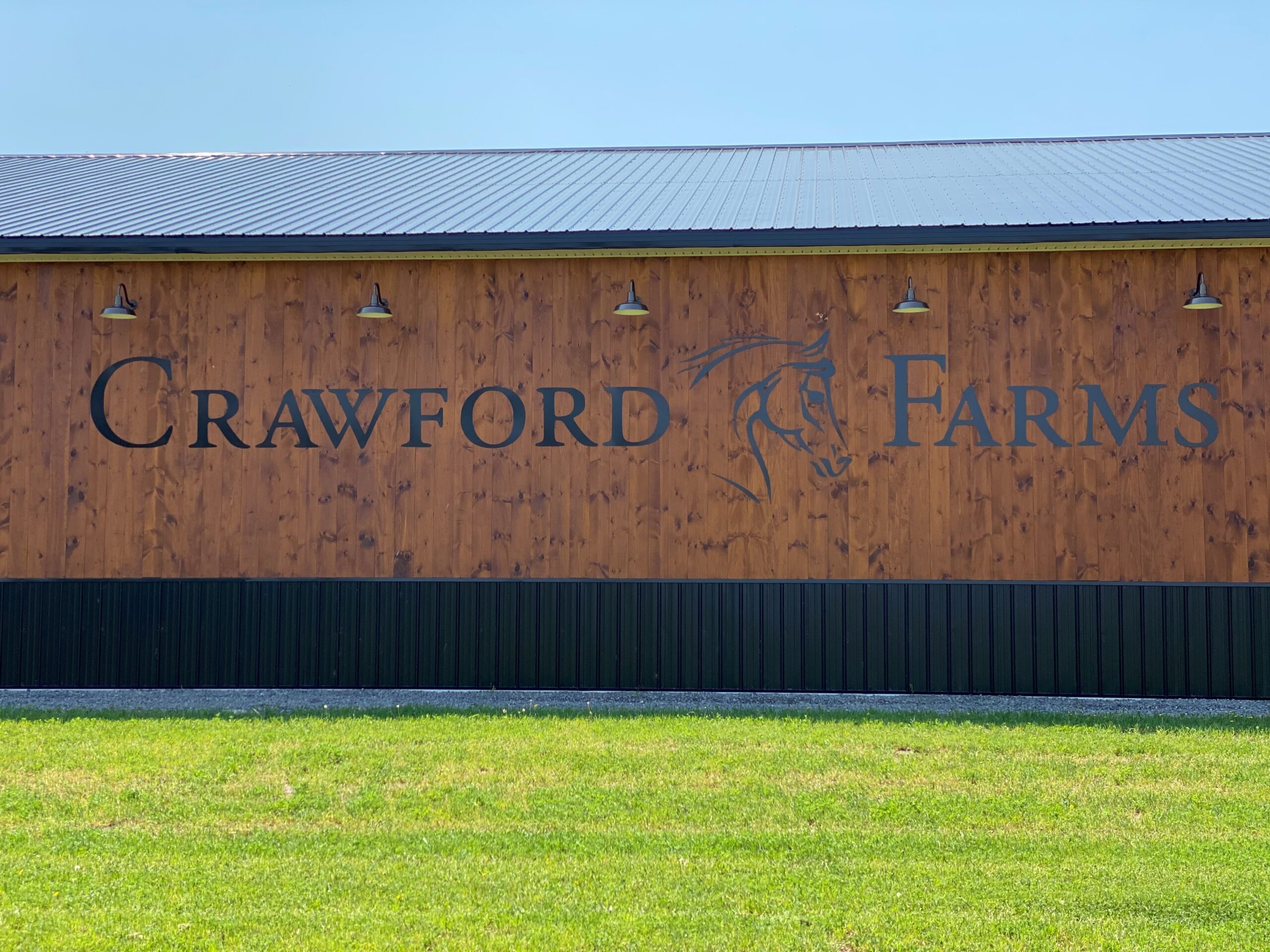 Al and Michelle Crawford seek to increase the presence of harness racing story by Mike Mullaney
In the right economy, ingredients such as ambition, resources and vision will lead to investment.
In the right hands, that investment, combined with a little luck, will bear dividends.
And, in the right circumstances, those dividends will be churned back into that investment, improving its quality, broadening its appeal and fueling its future.
Few and far between, true visionaries—especially those with elevated social awareness and a passionate yet reasoned voice—are to be found where abilities, a calling and determination intersect.
Sparsely inhabited, it's a place populated by people like Michelle Crawford.
A compelling personal story combined with her tireless efforts to secure safe haven for retired Standardbreds and her relentless commitment to promote the sport led to her being named 2018's Dan Patch "Good Guy" Award winner—a prize she picked up at the industry's annual banquet at the Rosen Shingle Creek Resort in Orlando, Fla., in February.
In addition, Al and Michelle's Crawford Farms Racing was recognized as the owner of Homicide Hunter, a.k.a. "The World's Fastest Trotter" and the Dan Patch winner as top older male trotter; and as co-owner of the splendid Atlanta, the Hambletonian winner and last year's champion 3-year-old trotting filly.
Beginnings
Al's parents, Jim and Patricia, started Crawford Farms in 1966. Jim, who passed in 2008, held undergraduate and graduate degrees from Colgate University and was president and chief executive officer of the Crawford & Associates financial firm before he retired.
Along with raising Al, Jimmy and Sallie, he and his wife enjoyed breeding, racing and caring for Standardbreds, a passion that led to Jim's tenure as president of the Harness Horse Breeders of New York State.
A week before his dad passed, Al promised him that he would take over and maintain the farm.
At that point, there were nine barren broodmares. The farm was in rough shape due to Jim's health issues and the fact he was hands-on operating the farm.
Al and Michelle made the commitment to continue the legacy and Al knew the business well because he grew up on the farm. He had maintained the books on nights and weekends throughout his 20s while he was growing his finance career.
It might be hyperbole, but it also may be quite possible that no trade publications have documented a first date as extensively as that of Al and Michelle Crawford.
It is the Standardbred industry's version of "When Harry Met Sally."
In 2006, Michelle was working as a realtor and as a headhunter with a job-placement firm and it was in that latter capacity that she came to meet Al, having placed a few clients with Al's business, Bankers Healthcare Group (BHG). It was also with the prospect of new business that Al threw in a date as part of the deal. The rest, as they say, is history.
Al then purchased Michelle's recruiting company in 2007, due to the rapid growth of BHG, and she became his internal head of human resources. Over the years, Michelle spent a lot of time learning the business, and in 2015 she made the tough decision to leave her lucrative position. At that time, she became CEO of the rapidly expanding Crawford Farms.
Michelle was raised about 10 minutes away from the Crawfords on a potato farm in Chittenango, N.Y., owned by her parents, Mike and Dee Panebianco. She was always a horse lover, but her father never bought in to Michelle's obsession and constant requests for a horse. Much later in life she acquired her first Appaloosa, but the Lexington, Ky., trip on her first date with Al proved to be a revelation.
"I didn't know what a trotter or a pacer was before I met Al," she said. "It was completely random that I had a love for horses and he was in the business with his dad."
Recognizing that a Standardbred is a girl's best friend, Al called to tell Michelle he had bought her a filly named The Company Store. One frigid morning not long after, while Michelle was wearing her realtor hat and showing a house, she received another call from Al who told her that he was chasing The Company Store, who was on the loose.
"It took hours for Al to catch her," Michelle said with a laugh. "She ran straight through fences and flipped over and somehow survived, much to Al's dismay.
"I couldn't help but think that this was going to be a lot of fun!"
Michelle grew more and more involved with Crawford Farms as Al, chairman and CEO, focused on growing BHG with his partners.
It's paid off.
Michelle said there was $25,000 in capital at BHG's startup and, a few years later when she and Al met, there were 15 employees. Now it has $1.2 billion in market value with more than 450 employees and offices in Syracuse, New York City and Davie, Fla.
Spreading the good word—marketing—has been the key to BHG's explosive growth and its regular ranking in "Inc" magazine's "Inc 5000" since 2005. Pinnacle Bank, through separate purchases in 2015 and 2016, paid $219 million for 49-percent interest in the business.
The Crawfords invested some of that windfall to not only reinvigorate and promote the Standardbred industry, but to also refurbish and improve operations back at the farm, including the addition of a therapeutic spa, replete with all the modern-day bells and whistles.
Inner Workings
Al and Michelle clearly are all in on Standardbreds, as breeders and owners and as major-race sponsors and spokespersons.
Michelle became a regular interview on shows and the Crawford Farms brand was appearing in TV commercials, on starting cars and water trucks, on a Meadowlands mural and on an electronic billboard in Times Square.
"It has been almost 10 years and a labor of love, money and commitment to get to where we are now," Michelle said, stressing the fact that they have been judicious in determining where to invest their resources and energies. "We took over the farm right at the time of the Great Economic Recession and we quickly realized that quality over quantity was what the market demand was."
The original Crawford property is located in Durhamville, a west-central New York state hamlet, just north of I-90, whose heyday coincided with that of the Erie Canal in the 19th century.
The farm there houses 90 well-bred broodmares and foals and is home to more than 90 racehorses when they are not in training but home for a spa vacation.
Michelle can hardly contain her enthusiasm when she talks about the 66 mares due to foal this year by some outstanding proven sires and new ones.
"It is the most spectacular crop we will have ever raised on the farm," she said. "Blue-blooded mares giving birth to blue-blooded babies. Doesn't get more exciting than that for our farm manager Heather Reese.
"She foals every single mare out. I'm not sure how she does it. We have a lot of sleepless nights."
The Crawfords are also managing their own yearling consignment this year rather than turning this job over to agents, like they have for the last two years.
To the north of I-90 and Durhamville is the Crawford's 200-acre farm in Verona, N.Y., which is home to more than 40 yearlings and a mix of retirees, donkeys and a mule.
In addition to the Durhamville and Verona properties, the Crawfords also purchased 1,000 acres of farmland near their home on Cazenovia Lake.
"That currently is the home of most of my retirees, rescues, minis and 'Lavender, Love & Ponies,'" Michelle said. "With the exception of Durhamville, all of the properties we have developed have been completely renovated. I love renovating barns and houses. We have an amazing full-time operational crew and they keep busy in the winters when it's tough to work outside. I would say that we have gotten extremely good at renovating old barns and homes."
Additions and renovations have been fun, but the near future will be about consolidation.
"We plan to move the entire farm up to Cazenovia, N.Y., so that we are much closer to everyone," Michelle said. "There is a lot of work that goes into running the farm. It is a big business and it has to constantly evolve. We were very excited to get Crazy Wow back after his distinguished career. I have to thank Gene Kurzrok—rest his soul—for making sure he landed back at my farm. So now we will see what he does in the stallion shed. We couldn't be more excited, since he was born and raised at Crawford Farms."
Oh Atlanta
The Crawfords bought into co-owner and trainer Rick Zeron's 25-percent share of the talented Atlanta (Chapter Seven – Hemi Blue Chip) a few days after her Memorial Day victory over fillies in last year's $238,613 Empire Breeders Classic final.
The remaining 75 percent of the filly is owned by Brad Grant, William Holland's Holland Racing Stable and Howard Taylor. All invested parties came into the Aug. 4 Hambletonian confident, perhaps none more than Zeron's son, Scott, Atlanta's regular driver.
Scott was an enthusiastic lobbyist, persuading the owners that, while the Oaks may have been hers for the taking, the $1 million main event was well within her scope. Having driven Marion Marauder to a Hambletonian victory two years before, his opinion that Atlanta could become the first filly since Continentalvictory in 1996 to win the big race carried plenty of weight.
Leading at every marker in the final, after finishing second in her elimination, she proved Scott correct and joined Continentalvictory and 12 other fillies among the 93 Hambletonian winners.
The victory was of special poignancy for Michelle, who, just before leaving for last year's Hambletonian, was thrown off one of her retirees, suffering a concussion and three broken back bones. One year, she's in the winner's circle in trotting's biggest race; a year before, wondering if she would walk again.
Ecstatic when she and Al bought into Atlanta's career, she now sees a sky's-the-limit future with her fabulous filly.
"My thoughts on Atlanta then, and my thought on her now . . . she's a freak," Michelle said. "One of the best fillies to ever have lived and raced."
Bouncing back from her Hambletonian exertions, Atlanta won the $224,000 Kentucky Filly Futurity final at Red Mile on Oct. 7, the day after Homicide Hunter trotted his world-record mile. She then closed out her campaign Oct. 27, succumbing to Lily Stride's rail-skimming, 31-1 shocker in the $500,000 Breeders Crown 3-Year-Old Filly Trot final at The Downs at Mohegan Sun Pocono.
After wintering at Sunshine Meadows in west Delray Beach, Fla., Atlanta is scheduled to compete again this year and beyond, with a European journey for the Elitlopp a distinct possibility in the spring of 2020.
At some point after that, the Crawfords will break out the "Welcome Home" banners for Atlanta.
"I can't wait to breed her when she is done racing, and see her hopefully pass on those amazing genes," Michelle said. "As far as who we would breed to? Whoever the 'golden cross' may be at the time."
Murderous
Hambletonian winners occupy a special place in the sport's consciousness, but there is plenty of room for other horses to win over the hearts and minds of their owners. Such is the case with Homicide Hunter.
"[I feel a] glow when I hear his name," Michelle said. "Although Al and I purchased him at the end of his 3-year-old year, he is our baby.
"We love him, and he has given me everything I ever dreamed of and more with regard to the highs of the sport."
Unlike Atlanta, Homicide Hunter is owned solely by the Crawfords. His previous owner, Illinois veterinarian Patrick Graham, bred the 7-year-old gelded son of Mr Cantab – Evening Prayer.
Chris Oakes trains Homicide Hunter, who was driven to victory by Brian Sears in last year's $145,000 Allerage Farms Open on Oct. 6 at Red Mile, in which he set a world-record mark of 1:48.4 over the one-mile track. George Napolitano Jr. also steered him to two more significant wins: in The Downs at Mohegan Sun Pocono's $500,000 Breeders Crown over a sloppy course on Oct. 27 and in its $100,000 Great Northeast Open Series Championship on Sept. 2, in which the trotter set a world record of 2:22.2 for 1¼ miles over a five-eighths-mile course, lopping more than two seconds off the 17-year-old previous mark. He also won Scioto Downs' $200,000 Charlie Hill Memorial with Aaron Merriman in the bike.
"The world's fastest trotter ever, Breeders Crown winner—we own him 100 percent, so it's even more special," Michelle said. "He is my forever horse. I hope he's not ready to retire too soon, but when he does, he will be in my backyard forever."
A Good Guy
Michelle not only got off the deck from the injuries she suffered from her fall in 2017, but she has also recovered from a bout with cancer and a series of radical surgeries. She's done all that while taking on the challenge of breathing new life into an industry that could use a fresh voice and a vibrant personality.
"I see pictures of the races when Al was a kid and the grandstands were full, crowded, just lively," she said. "Go there today and you could shoot a rocket into the stands and not hit anyone. Al and I feel the sport is on fragile footing. There's just not enough sponsorship from owners, breeders, trainers, tracks, horsemen groups, drivers, etc. There's no TV time and the younger generation doesn't seem to have any interest in the sport, so if we don't all participate soon, we may not have harness racing.
"I don't see a lot of participation in the overall sponsorships, let alone protocol for our athletes. And there's the second priority: finding homes for retired horses, allowing them to live out their days in safety. I know you can't run a business with your heart—you have to be able to keep a horse, to feed him, take care of him—but I have a big heart when it comes to horses and to kids. Three years ago, I was making a contribution to the TAA (Thoroughbred Aftercare Alliance) and I asked, 'Where's ours? Where's our sponsorship of the horses who make all this money for us?'"
Meetings with industry leaders at the Meadowlands and in Lexington led to an announcement at the USTA's annual meeting last March, when executive vice president and CEO Mike Tanner proposed the creation of the Standardbred Transition Alliance.
"I've enlisted as many people as possible to support it," Michelle said. "We have some big donors and people looking to help make this difference in our sport. They are baby steps, but we're heading in the right direction."
The third female "Good Guy," Michelle joined 2015 award winner Jo Ann Looney-King and 1996 winner Dorothy Haughton on a roll call of honorees that began in 1964. HB